Happy Tuesday! Time for another Teacher Feature!
This week I am featuring Jessica Plemons from Mrs. Plemons' Kindergarten!
She is an amazing teacher/blogger/author who creates practical and useful materials for teachers and their students.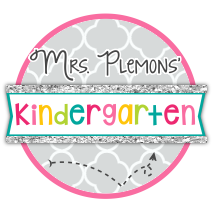 1. How long have you been TPT'ing?
2. What is your most helpful advice for new TPT'ers?
Stop by the TPT forum and read, read, read. There are so many great threads full of advice for new sellers. I wish I had discovered that treasure trove of information. I could have avoided so many newbie mistakes with securing files, copyrighting materials, creating cover pages/previews and more! Starting can be overwhelming, but taking just a few minutes each day to read the advice of others will go a LONG way and save you time in the end.
3. What is your most helpful tip for new teachers?
Find teachers that have a collaborative heart. I've been blessed to work with some amazing teachers that just share anything and everything they can...ideas, crafts, paper, books, extra copies, tears, laughs, coffee, chocolate, whatever I need! If you can't find them in your building reach out to bloggers! There are so many teachers out there pouring their hearts into blog posts with ideas that you can use. Find a few favorite bloggers that share the kinds of ideas you love. Collaborative blogs in particular are always a great treasure trove of information because you get tons of bloggers all in one place!
Any additional tips?
When you compare yourself to others you may never be satisfied, but if you look at how much you've grown, you can celebrate your accomplishments. Whether it is in TPT or teaching it's easy to see others' success and feel they are beyond your reach, but when you focus on growth you can be proud of the work you do. Work hard. Be proud.
Featured Product
If you are ending the year and looking for something to recognize your students,
this might be the resource for you
! Student AwardsI always have the hardest time thinking of awards for students. I love how bright these awards are and that they come in color and black and white. If you haven't had your award ceremony yet, these might be the awards for you!